Introducing: SkyBT BlueTooth Telescope Controller for SkySafari on Android - $129.95!!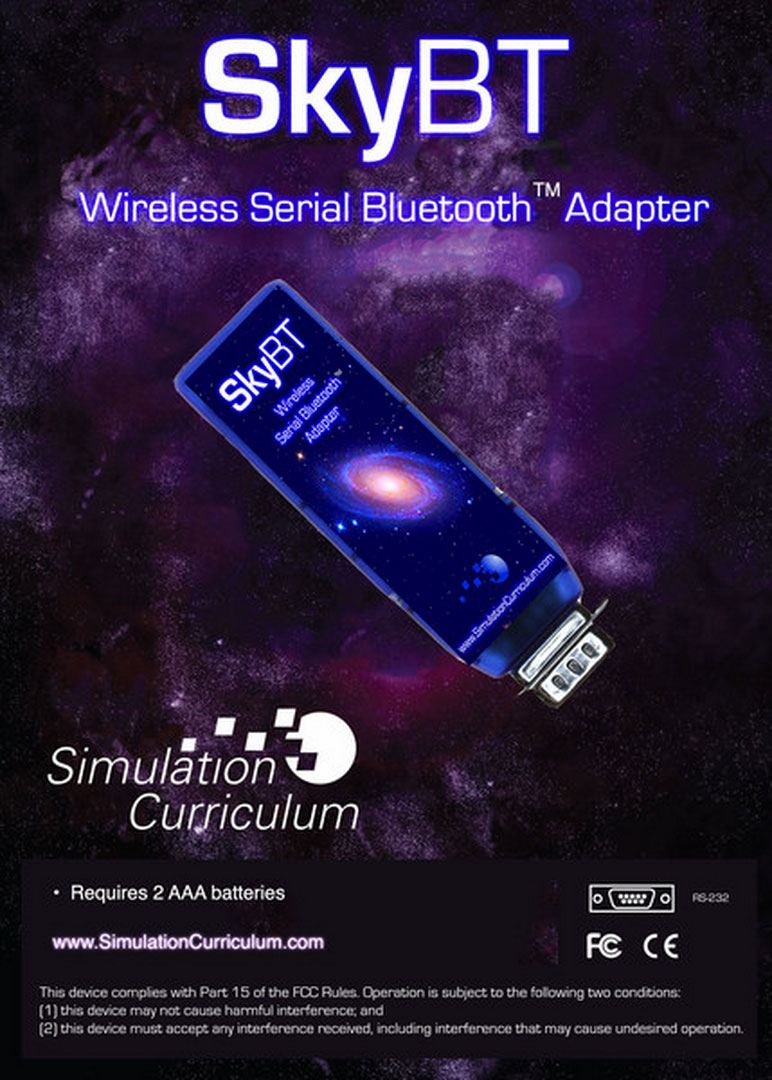 SkyBT® is our NEW solution for wireless telescope control for use with SkySafari on Android devices! Smaller than a business card, it easily attaches to RS232 serial ports via a DB9 male connector.
The device is completely Plug & Play. After pairing your Android device with SkyBT and tapping Connect in SkySafari, we automatically configure SkyBT with the proper settings for talking to your telescope mount.
SkyBT runs off of two AAA batteries (alkaline or rechargeable) and has a built-in recharging circuit. You can expect to get 8-10 hours of scope control out of a set of fresh batteries.
SkyBT is a Class 1 Bluetooth device with a typical range of around 100 meters, far more than cheaper bluetooth adapters.
Note: SkyBT® may also be used with our fantastic SkySafari OSX on an Apple Macintosh computer! Apple's iOS device users should opt for our SkyFi® for purposes of telescope control as SkyBT® is intended for Android only.
Using Wi-Fi
SkySafari for Android can control your telescope by either Wi-Fi or bluetooth. Unfortunately, most Android devices do not support Ad Hoc WiFi networks, such as generated by our SkyFi wireless adapter, by default.
Using Bluetooth
As a result, we've also decided to offer telescope control in SkySafari for Android via bluetooth. This is something that isn't possible with iOS devices due to Apple restrictions. Initially, we developed bluetooth support in SkySafari for Android using the Starry Night BlueStar bluetooth serial adapter.
We've programmed SkySafari to use standard Bluetooth Android interfaces, so most third party should work. If you can configure your bluetooth adapter to control your telescope from a Mac or PC, it will probably work with SkySafari for Android.
IMPORTANT! We do not offer support for third-party bluetooth serial adapters on the market. We do support our SkyBT® Bluetooth telescope control solution!
Here is a list of common bluetooth serial adapters that are known to be compatible, and not compatible, with SkySafari. Some are battery powered, making them ideal for field use.
(*) For the US Converters adapter, see configuration notes on this page.
Please Note: mention of these products does not indicate an endorsement by Simulation Curriculum. And, again, we do not offer support for troubleshooting configuration issues with third-party bluetooth serial adapters. We do support our SkyBT® Bluetooth telescope control solution!
Using USB-to-Serial Adapters
Many Android devices have a USB port. We've been asked whether SkySafari can just use a USB-to-serial adapter to talk to a telescope. At this time, the answer is "no". For this to work, the Android device would have to be a USB host, and most devices are USB slaves, not hosts. Secondly, the Android OS would have to be running the drivers for that USB-to-serial adapter. As of this writing, we don't know of a single USB-to-serial adapter manufacturer that produces Android drivers. You can root your device, write your own drivers, and recompile the Android kernel if you want to take a stab at this yourself!
We've found one Android serial library that only supports a very limited number of USB-to-serial adapters, and requires Android OS version 3.1 or later. To use it, we'd have to limit our app to devices running Android 3.1+, which is a tiny fraction of the installed Android user base.
The situation with Android USB-to-serial adapters may improve in the future, but we have no plans to support any telescope connections other than bluetooth or Wi-Fi at this time.
Telescope Compatibility
With our brand new SkyBT® and other compatible Wi-Fi or bluetooth serial adapters, SkySafari can connect to any telescope with a standard RS-232 serial interface. Models that have been tested and are known to work with SkySafari include:
Meade LX-200 Classic and GPS
Meade LX-90, ETX, LXD, LX-400 ACF with AutoStar #497 controllers
Meade Magellan I and II
Celestron Ultima 2000
Celestron NexStar 4/5/8, 5i/8i, GPS, SLT, SE
Celestron CG5, CGE, CGEM, CPC
Orion Sirius, Atlas, SkyView Pro, SkyQuest XTg
SkyWatcher mounts with SynScan controllers
Takahashi Temma 2
ServoCAT Argo Navis, Sky Commander, Losmandy DSC
Astro-Physics GTO, Losmandy Gemini, Vixen SkySensor 2000
Tangent Instruments BBox, JMI NGC-MAX, Celestron AstroMaster
Lumicon SkyVector, Takahashi Super Navigator, Dave Ek Box
Orion Intelliscope, Orion SkyWizard
Some Meade ETX models (60/80) ship with the Autostar #494 controller. To make SkySafari work with these scopes, you need to replace the #494 Autostar controller (which does not have a serial port) with the #497 Autostar (which does). Contact Meade to upgrade your controller.
The only models that do not work with SkySafari are those that lack an RS-232 serial interface. Such models include:
iOptron SmartStar and MiniTower mounts with GOTONova controllers
Meade ETX-LS
Vixen mounts with StarBook controllers
These telescopes have USB or Ethernet interfaces, which cannot be physically connected to a bluetooth or Wi-Fi adapter.